CIET 2016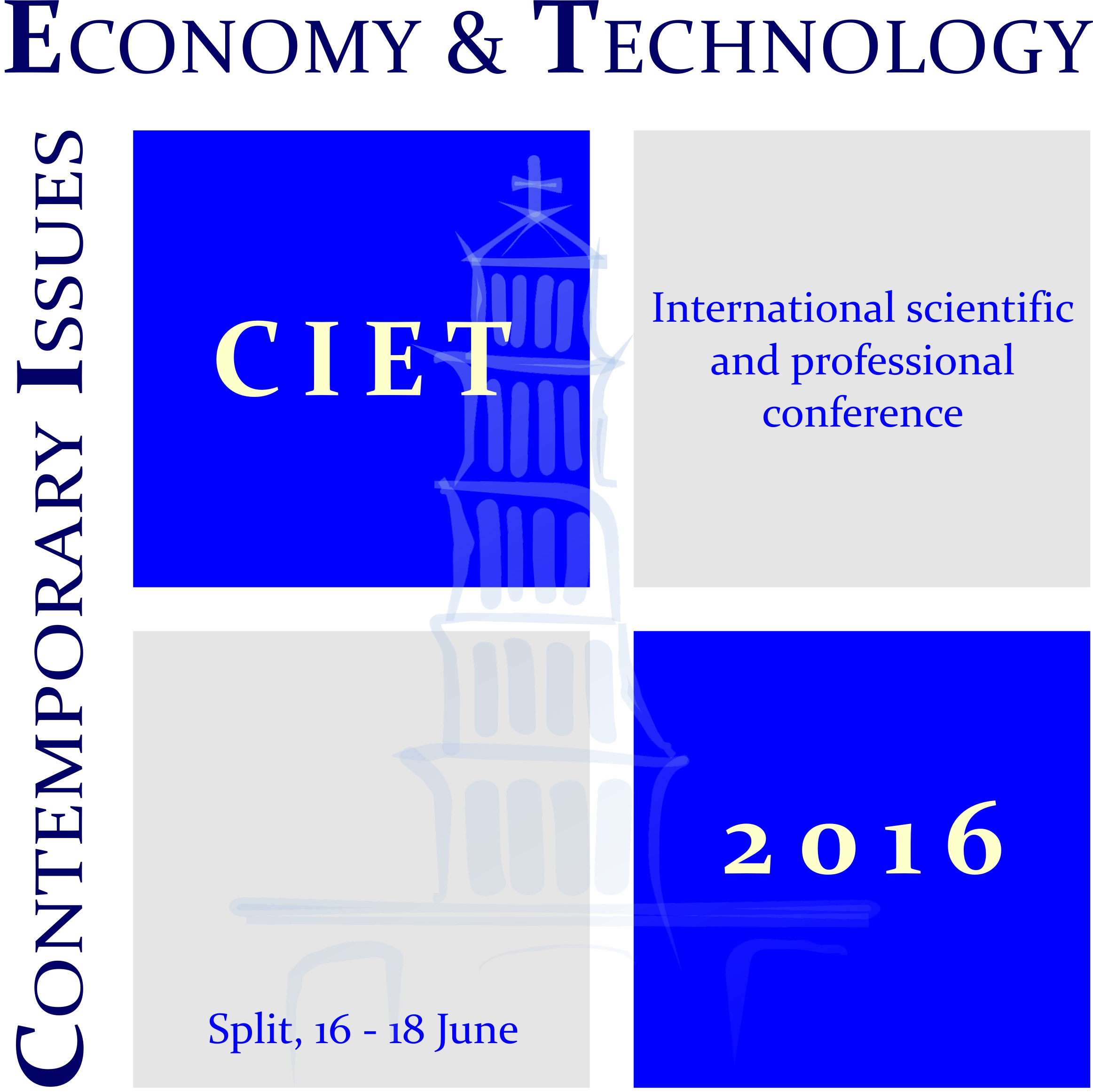 CONTEMPORARY ISSUES IN ECONOMY & TECHNOLOGY – CIET 2016
16-18 June, 2016 / SPLIT - CROATIA
Dear CIET_2016 conference participants,
On behalf of the CIET_2016 Organizing Committee we want to thank you for attending the 2nd biannual conference entitled Contemporary Issues in Economy and Technology, on June 16-17, 2016 at the Department of Professional Studies in Split, University of Split, Croatia.
We hope that you found the conference informative and worthwhile as there were many diverse topics covered during the conference. The primary goal was to bring together professionals and academics to discuss current trends in respective fields and to provide practical tools that could be utilized in our working environment.
Thank you for your comments and suggestions on the feedback form. They will be given consideration so that future conferences will be even more of a success.
We wish you all the best and hope to see you again at CIET_2018 conference in Split.
Sincerely,
CIET_2016 Organizing Committee
Conference photos can be downloaded from the link.
Overview:
This year international conference on contemporary issues in economy and technology focuses on promoting sustainable development through all means of learning, including practical works and research in the areas of economy, engineering, technology and education.
CIET 2016 continues working in conjunction with international and local partners in the area of economics and for the first time introduces electrical engineering in the area of interest.
Besides being an ideal forum for sharing ideas and knowledge about new sustainable achievements, it is also the best place for interaction with colleagues in these fields.
Given the host site's professional orientation and the partner's scientific, focus areas will include:
Finance & Accounting
Entrepreneurship, Tourism and Trade
Information Technology, Electrical Engineering and Mechanical Engineering
Interdisciplinary Teaching and Learning
We are glad to inform you that the year's 2014 conference proceedings are published in the Annotated List of New Books section in the December 2015 issue of the Journal of Economic Literature of the American Economic Association (click to visit).
NEW! We are happy to inform you that CIET 2014 Proceedings have been indexed in EconLit. All full papers published at the CIET 2016 Proceedings will also be submitted for indexing in EconLit.
Dear authors, please provide your Powerpoint presentation files (on a USB memory stick) during the registration process at the information desk.
We would like to use this opportunity to inform you that the oral presentations should last up to 10 minutes with additional 3 minutes for discussion and questions from the audience.
Looking forward to seeing you soon,
Organizational committee
NEW!   Full conference Programme (with Paper abstracts)
Official language of the conference: English
We look forward to seeing you in Split!